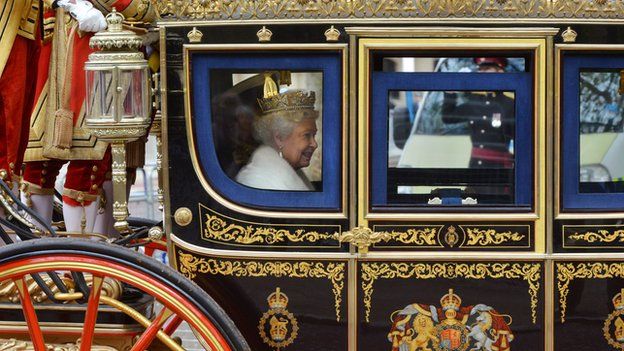 Yesterday her Majesty delivered her 61st speech at the opening of Parliament. She has delivered every single speech since her ascension to the throne except 1959 and 1963. In those 2 years, she was pregnant with Prince Andrew and Prince Edward. The Lord Chancellor delivered the speech in her absence.
So what is the Queen's speech and why does it matter? It is actually one of the highlights of the Parliamentary year when she officially opens Parliament. There is a lot of pageantry and ceremony, but the long and short of it, the Queen announces a list of laws the government hope will be passed in the next year.
The State Opening of Parliament can be traced all the way back to 16th Century, although the current ceremony dates back to 1852 when the Palace of Westminster re-opened after the fire of 1834. It is important to say that the speech isn't written by the Queen, it is written by Ministers and tends to last around 10 minutes.
So yesterday, Queen Elizabeth II delivered the speech. There were quite a few things we already knew about. She spoke about:

Digital Economy Bill


Every household will have a right to fast broadband, with a minimum speed of 10Mbps. Houses in the more remote areas will have to contribute to the cost of supplying the fast broadband. A commitment to cutting the cost of building new mobile masts. There is talk of consumers having the right to compensation if they have a broadband outage. There will be a law requiring companies to get permission before sending promotional spam emails and all websites with pornographic content will have to obtain age verification.
Modern Transport Bill
At last, driverless cars could be making their way to our streets. This could change the way we all live our lives, and it is great to see the UK be innovative and encouraging this technology. There were also some updates to the ATOL financial protection for holidays.
Neighbourhood Planning and Infrastructure Bill
We have heard a lot about this in the past, and it seems to be constantly changing. Successive governments have promised local communities more say in neighbourhood planning, let's hope this government finally delivers it. They plan to make changes to pre-commencement planning conditions, compulsory purchase orders, and compensation framework to make it all fairer and slicker.
Local Growth and Job Bill
This is for England only, as all the other parts of the United Kingdom have these powers delegated.

Local Authorities will be able to keep 100% of business rates, which in itself has pros and cons. On top of that, there will be new powers devolved to local authorities and the ability to levy business rate supplements to fund infrastructure projects. All a bit worrying this one...
There were a lot of other bills in the speech, like:
Better Markets Bill
Bus Services Bill
NHS Overseas Visitors Charging Bill
Pensions Bill
Children and Social Work Bill
Education for All Bill
Higher Education and Research Bill
Prison and Courts Reform Bill
National Citizen Service Bill
Lifetime Savings Bill
Small Charitable Donations Bill
Counter-Extremism and Safeguarding Bill
Criminal Finances Bill
Cultural Property Bill
Wales Bill
Intellectual Property Bill
Draft Law of Property Bill