One of the team had the opportunity to go to Oktoberfest last week - so we asked him, once he had sobered up, to let us know what it was all about.
Last week I had the amazing opportunity to go to the Oktoberfest. I went on Wednesday, thinking it might be a bit quieter... It wasn't. I couldn't believe the huge scale of the festival. I have been to some pretty big beer celebrations in my time, but this was in a whole new league.
It is held every year for 17 or 18 days depending on how the weekends fall, it runs from mid September until the first weekend of October. During those 17 or 18 days days an amazing 6 million people attend. Apparently almost 8 million litres of beer are drunk!
The scale is completely unbelievable. There are 14 'tents', I say tents because that is what they are called, but they are fully built 2 storey wooden buildings. Building 20 of these buildings just for 18 days is just incredible. I was in the Schützen-Festzelt, which is the hunting themed tent
The atmosphere is really sedate to start with. After lunch a band appeared and played some traditional Bavarian songs etc. Then at 6 the party really starts kicking. Everyone jumps up on their benches and start singing along to various drinking songs like Ein Prosit - which is just great. Every sings it and you hear all the steins crashing into each other then shouts of "prost". There was more modern ones like Sweet Caroline and Angels. It's all so social, great fun.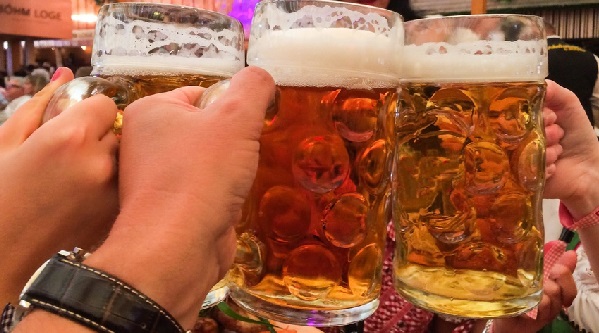 The most amazing thing is how many steins the ladies carrying the beers to the table can carry. I borrowed this picture from
http://anopenvein.com/
as I didn't get a clear picture myself.
All I can say is it is absolutely incredible and everybody should go. I will definitely be back...